Joint Venture, or 100% Foreign-Owned?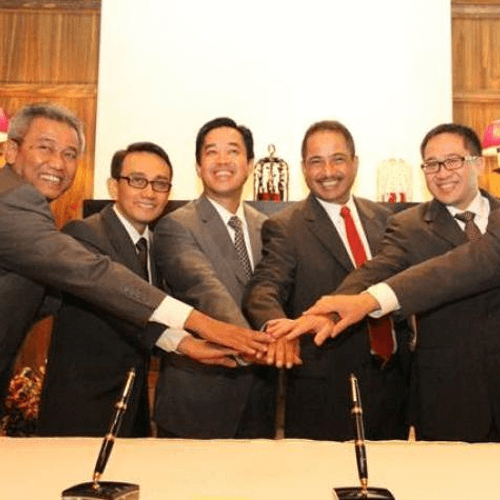 [First published in OzIndo Vol 5 No 1, magazine of the Australia-Indonesia Business Council]
Joint ventures (JVs) have long been the working foundation upon which foreign investment has entered many developing countries.  In fact, in many countries JVs are the only way that foreign capital can be invested.
A foreign company is therefore compelled to 'match up' with an appropriate local partner in order to smooth entry into that business environment.  The thinking behind JVs is of course one of mutual benefit; benefit to the foreign company in terms of market access and access to the local conditions which make the country attractive to investment, and benefit also to the local participant, who is able to scale up their operation to world standards and gain tangible benefits such as profits, technology and international business experience.
Until very recently JVs were the only way that foreign companies could invest in Indonesia.  This changed in 1996 when the then government opened the way for 100% foreign-owned companies to be established (PMAs, Penanaman Modal Asing, or 'Foreign Capital Investment'). Further deregulation has occurred since then opening up the range of commercial activities permissible to 100% PMAs.
While there are undoubted many JV success stories, there are equally as many horror stories.  What needs to be remembered is that a JV is just a partnership with a fancy name, and as most business people well know, partnerships are fraught with hazard.  Differences in perceptions, expectations and performance can sometimes turn sweethearts into bitter foes, and this probably applies even more to partnerships that straddle cultures.
It is not my purpose to be overly negative about JVs but merely to point out some pitfalls; pitfalls which are identical to those that exist in any other kind of partnership.  Companies and individuals wishing to set-up in Indonesia should also consider the alternative to a JV: a 100% foreign-owned venture.
The establishment of a 100% PMA company requires a different mode of thinking to that of a partnership.  And to an extent, it isn't for everyone.  Whilst the advantages in terms of day-to-day control over company affairs are significant, a 100% PMA company demands the personal attention of the investor.  In most JVs, on the other hand, this control is usually surrendered to the Indonesian partner.  Very simply, a 100% PMA cannot be left to run itself; it will require hands-on management and thus time.
Apart from management, JVs also bring with them the entire business network of the Indonesian partner.  This is probably a greatly under-appreciated aspect of JVs.  For the 100% PMA the establishment of networks is critical; a business is not an island, in particular in Indonesia.  Working together with local businesses is simply not a case of attempting to win brownie points from the government; it is truly a crucial part of every Indonesian venture.
On the other hand an Indonesian partners business network may be based upon some non-commercial premises, especially small to medium companies.  Family members, friends, officials and cohorts frequently form part of every business's network, and whilst this can often work to genuine commercial advantage, this is not always the case.  Inefficiency is often tolerated by some Indonesian businesses in the name of 'familyness' (kekeluargaan). This is an important concept in all Indonesian cultures, and of course should not be belittled or ignored.  The familyness concept has important implications for foreign companies doing business in Indonesia.  Just as an example, the firing of employees is a serious matter that can cause bitter resentments if not handled in the correct manner.  Labour regulations go as far as stating that incompetence is not a valid reason for firing someone.  This, of course, points to the need for great care in the hiring process.  However, if the prospective employee is a family member ...
Indonesian companies, even large concerns, will tend to put family members into strategic management positions and into positions which require the handling of cash.  These family members will not always necessarily be well qualified to undertake the required tasks, and sometimes their attention to management detail and commitment to a full-days work can be less than desirable. (Please note the very generalised nature of this discussion.)
While the 100% PMA company cannot avoid all the problems associated with 'familyness', they can at least be minimised.  You will be coming in with a 'clean slate' with far fewer familial obligations and debts.  The manager of the company should aim to create a family environment that reduces the commercial impact of some of these negative features.  To create such an environment is, of course, easier said than done, and requires a better-than-average knowledge of Indonesian cultures and society on the part of the manager.  Language fluency is also invaluable, however surmountable with the appointment of the right local 'right hand'. This person must embody a range of skills; he/she must naturally be fluent in English, but just as importantly must have a proper understanding of business practices and principles, and have at least some knowledge of the technical aspects of the venture.  This one appointment can make or break a venture.
Some restrictions also apply to 100% PMA companies.  There are many commercial areas which are reserved only for locals (usaha kecil; small ventures); these are mainly concentrated in the agricultural areas.  Other restrictions require that an Indonesian component is essential, nearly always in the form of share ownership of at least 20%, and include retail, food and drink manufacturing and animal husbandry areas.
The 100% PMA is definitely not for everyone, nor indeed is it right for every venture.  For small to medium ventures focussing on export the 100% PMA should always be given proper consideration, and the pros and cons weighed up against those for a JV.  The investor will need to consider his or her own knowledge about Indonesian culture and language, in addition to possessing sufficient personal flexibility when handling sometimes difficult cultural issues.  Locating and selecting key staff is most critical, as is ensuring that the proper administrative and bureaucratic paperwork is all in order.  You may discover that the 100% PMA is the ideal vehicle to power your Indonesian venture.